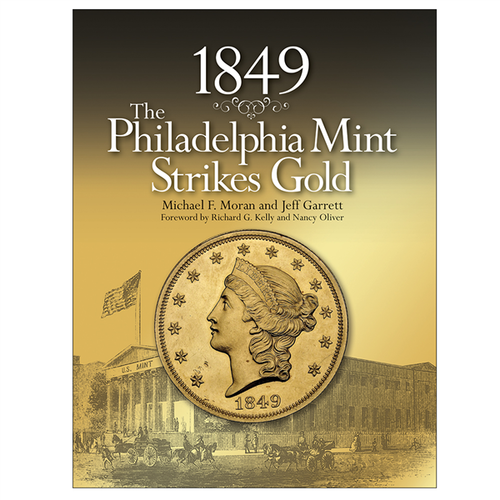 1849: The Philadelphia Mint Strikes Gold Whitman Book
Original price
$49.95
-
Original price
$49.95
Award-winning researcher Michael Moran (author of 
Striking Change: The Great Artistic Collaboration of Theodore Roosevelt and Augustus Saint-Gaudens)
, joined by gold-coin specialist Jeff Garrett, chronicles the trials and tribulations of the U.S. Mint in the first half of the 19th century and the tremendous impact that the 1848 discovery of gold in California had upon that institution and the nation as a whole. From early struggles for adequate facilities and machinery for coining in Philadelphia to dramatic political debates waged in Washington, D.C., the remarkable evolution of the Mint and the country's coins and medals has never before been explored in such detail.
"The arrival of Colonel Mason's oyster can full of gold in Washington would change everything in the United States," Moran writes. "It would fuel a rapid industrialization across the Northern states with a supporting rail system. It would leave few institutions untouched, least of all the United States Mint at Philadelphia, which would be shaken to its very foundation and only just barely survive."
With hundreds of full-color images, some not seen in print for generations; an engaging narrative that sheds new light and draws fresh new conclusions; rich details on the colorful personalities involved and their interactions; and an inventory of the Smithsonian's gold holdings, this book is a treasure for the coin collector, the gold investor, and everyone interested in the fascinating history of the United States.
"A fascinating account of the trying period of the California Gold Rush and its effect on the United States. 1849: The Philadelphia Mint Strikes Gold comes with our highest recommendation. We were genuinely impressed with the depth of the research ... written in the style of numismatic history at its best." — Richard G. Kelly & Nancy Oliver, numismatic historians