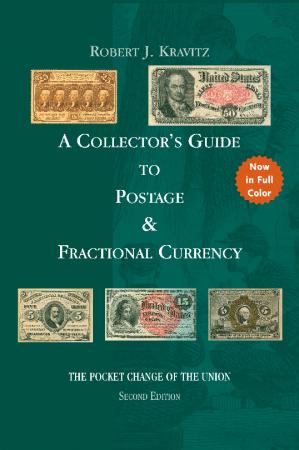 A Collection Guide to Fractional Currency 2nd Edition Kravitz Book
Sold out
Original price
$49.50
-
Original price
$49.50
The following is from Harper's Weekly January 11th, 1862: "On 28th of December, 1861, the New York City banks suspended specie payments. Their example would be followed by the banks of Philadelphia and Boston, and the Government of the United States."
"Specie Payment" means the banks would not redeem paper money for coins. Because the country was embroiled in a Civil War, with the outcome uncertain as to which side would prevail, people began hoarding all the copper, silver and gold coins since paper money had no intrinsic value. Soon, the coins became worth more than their face value.
Because of the depletion of coins from circulation, merchants began having problems giving change for purchases. As a result, people began using Postage Stamps as change. Congress went ahead and adopted the idea of using stamps to make change, and it became law when President Lincoln signed it on July 17th, 1862.
This proved to be unworkable as the stamps soon became dirty, sticky and unfit for use. They were just not designed to be used over and over again. Treasurer of the United States, Francis E. Spinner took the idea of using stamps as currency to the next level. He pasted unused U.S. Postage stamps on bits of Treasure paper cut of a uniform size for the convenience of handling, and signed them. Congress liked the idea and Postage Currency was born.
In August 1862 the Federal Government issued Postage Currency with the likeness of stamps on the notes. These were eagerly accepted, as the new way to make change. The notes were issued in 5¢, 10¢, 25¢ and 50¢ denominations. These notes were soon counterfeited, which created the need to issue a new design. The new notes were called Fractional Currency. Soon, Fractional Currency became the pocket change of the North during the Civil War.
The highly acclaimed First Edition (winner of the PCDA 2004 Literary Award from the Professional Currency Dealers Association (PCDA)) has now been updated to reflect not only the latest trends in prices for postage and fractional currency, but also to add more information on the history of this aspect of our numismatic heritage. Mr. Kravitz has been researching, collecting and dealing in Postage and Fractional Currency since 1968 and is recognized as one of the leading experts in this field.
Features:
Rarity guide for each listing
Latest price trends: Values in up to eight conditions
Every note now shown in color
The universally-used Friedberg Numbering System. The standard method for describing US currency
Invaluable appendices with information found nowhere else
Hundreds of photos