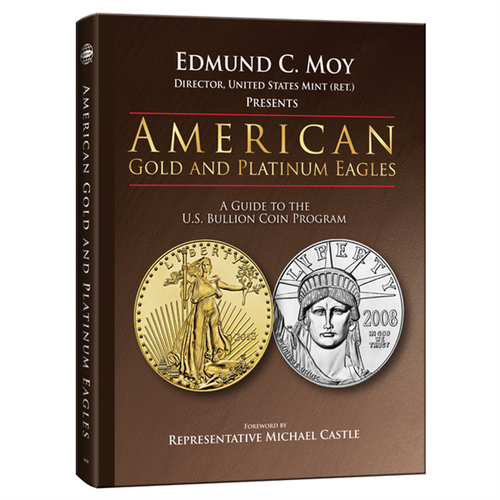 American Gold & Platinum Eagles: A Guide to the U.S. Bullion Coin Programs Whitman Book
Original price
$29.95
-
Original price
$29.95
The U.S. Mint's hugely popular American Gold Eagle and American Platinum Eagle coins are collected by numismatists, stockpiled by investors, and treasured by precious-metal buyers throughout the United States and around the world.
Now, no less an authority than Edmund C. Moy-38th director of the U.S. Mint-shares his unique insight and behind-the-scenes perspective on these beautiful pieces of Americana.
To create this book, Moy has drawn on a lifetime of interest in coins and precious metals, leading up to his 2006 confirmation as director of the U.S. Mint. Under his tenure, demand for American gold bullion coins multiplied more than fivefold, from less than 330,000 ounces in 2007 to 1,800,000-plus ounces in 2009, and counting. The U.S. Mint went from a major producer to the world's largest producer of gold, silver, and platinum coins, with bullion coins accounting for the majority of the Mint's revenues.
Director Moy brings together diverse elements-technical and artistic, historical and current, market-driven and hobbyist-to make American Gold and Platinum Eagles a valuable addition to any collector's or investor's bookshelf.