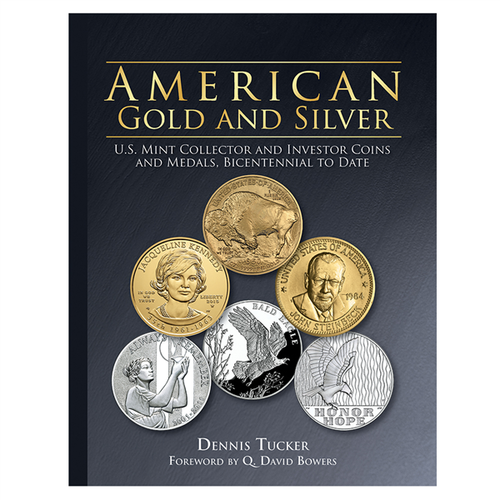 American Gold & Silver: U.S. Mint Collector & Investor Coins & Medals, Bicentennial to Date Whitman Book
Original price
$29.95
-
Original price
$29.95
Every coin collector knows about the United States Mint's American Eagle bullion coins. But did you know that the Mint has produced more than 150 other collectible works of silver and gold bullion since the national Bicentennial in 1976? They include some of the most beautiful coins and medals ever engraved for the United States. Some were runaway best-sellers and made national headlines. Others are well-kept secrets. Many are sought by collectors and investors around the globe. Some are "sleepers"—underappreciated treasures with great potential waiting to be discovered.
Now, award-winning author Dennis Tucker shares years of research and unique perspective in a colorful exploration of these amazing pieces of Americana. He takes you behind the scenes at the U.S. Treasury, into the engraving department of the U.S. Mint and the chambers of Congress, even to the White House, where questions about the nation's precious metals have been argued for generations.
Inside you'll find a richly illustrated history of silver and gold in the coinage of colonial America and the United States. You'll see why silver and gold were difficult for the average American to acquire through most of our history. Learn about the American Arts gold medallion program of the early 1980s, and the U.S. Mint's recent American Buffalo, First Spouse, and America the Beautiful bullion programs. Bicentennial gold medals, the 2014 gold Kennedy half dollar, 1916–2016 centennial gold coins, silver Wildlife Refuge Service medals, the 9/11 national medal, and other important modern productions all are cataloged and described inside. Along the way Tucker shines light on a thousand people, places, and points in American history: military heroes and famous artists, awe-inspiring landmarks, fearless innovators, dreamers and doers.
Q. David Bowers calls it "Exciting, informative, and in the annals of numismatic research unique. This book will serve permanently as the source for facts on the U.S. Mint's modern gold and silver coins and medals." American Gold and Silver is a fascinating trip across our national landscape, and a valuable addition to any collector's or investor's bookshelf.