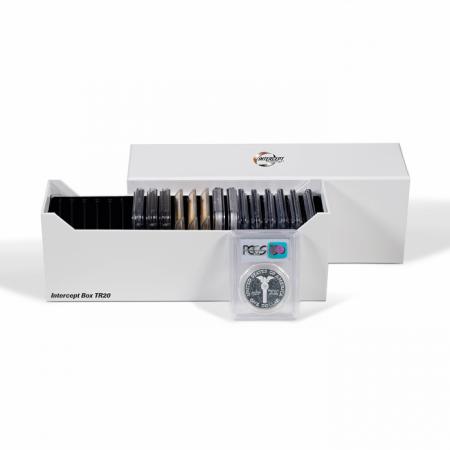 Lighthouse Intercept Track Box for 20 Slabs
Original price
$19.95
-
Original price
$19.95
Archival quality protection made especially for PCGS and NGC coins with the box lined with Corrosion Intercept. The box securly holds 20 PCGS or NGC encapsulated coins including the latest generations of slabs. Note that this box does not have the inner boxes (like the double protection boxes) but that the coins cannot move around inside the box because they are held firmly in place by tracks along the sides. These boxes are similar in size to the plastic boxes sold by PCGS and NGC but with the added protection of the Intercept Shield technology and the versatility to work for multiple brands of slabs. Intercept Shield acts as a neutralizing agent cleansing the air around the coin protecting it from the harmful effects of corrosion.  
Capacity: Holds 20 slabs by PCGS, NGC, ANACS, QUICKSLAB, and more.
Overall size: 10 1/4 x 3 x 3 3/4" (260 x 75 x 95 mm).
357982