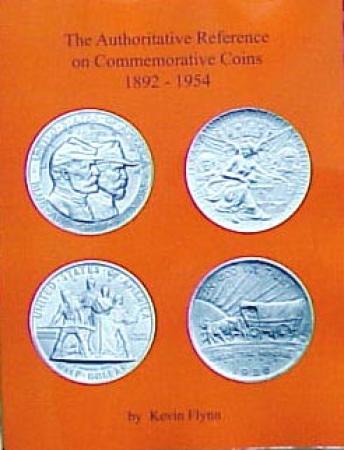 The Authoritative Ref. of Comm. Coins 1892 - 1954 Soft Cover Flynn Book
Original price
$39.95
-
Original price
$39.95
The primary objective of this book is to present a detailed historical account surrounding the images used on commemorative coins struck between 1892 and 1954. These images are history frozen in time; a story told through the hands of a sculptor. They represent an important and powerful part of their lure. Understanding the background and symbolism increases the enjoyment in collecting them.
Included for each commemorative coin is a description of the design, historical facts related to the images, origin of the coin, the striking characteristics and wear points, distribution, any information regarding proofs, general comments, values, Heritage auction prices realized, certified population from PCGS and NGC. Also included from the Annual Mint Reports for many of the commemoratives is a general description of the designs used, number of coins struck during the calendar year and fiscal years, and for some series the number of dies used is given. Also included are detailed photographs for many doubled dies and RPMs, some of which have never been presented before.
The secondary objective was to present all Mint and National Archive documents related to commemorative coins. These documents represent the facts presented by those who created our history and were responsible for making the decisions. For commemorative coins, National Archives records are primarily up through 1904 with some records up through 1920. Some of these letters found present detailed accounts of the decisions made. For example, one letter stated that number 2 through 101 coins struck for the Columbian half dollars were struck as proofs. Another letter presented where the images of Columbus were obtained. Another letter stated that all Isabella blanks were polished. Yet another letter stated that two two-and-a-half dollar gold coins and two fifty-dollar gold coins were struck at the Philadelphia Mint and delivered to the Panama-Pacific Exposition. These letters are important in presenting an accurate historical account of these coins. Commission of Fine Arts records started in 1910 and contain many important documents between individuals responsible for creating these commemorative coins, including the individuals or group who sponsored the coin, designer, Director of the Mint, Superintendent of the Philadelphia and Branch Mints, Chief Coiner, Secretary of the Treasury, Congressmen, Senators, members of the Commission of Fine Arts, and other important individuals. These letters tell the story of the coins and and are important in understanding the facts surrounding them.
A few articles are included, some of which give details presented by the individual who designed the coin. The John Sinnock Estate Sale from 1962 is included as it presents a few commemorative coins that were listed as proofs in the catalog. The Authorization Acts are presented for each commemorative coin to present Congress's view, limitations, and control over the commemorative coins authorized.